Bus operates from December 22nd 2019 – March 8th 2020
PAYMENT
Please purchase the Myoko Shuttle 500 yen bus tickets.
Give the ticket to the driver when boarding.
It is 500 yen one way to any stop on the line.
NOTE
※ 500 yen per ticket.
※ This ticket is valid only on Mt Myoko Shuttle line.
※ Unused tickets can be refunded ONLY at the place of purchase.
※ Can not be refunded from your hotel.
Akakura Onsen Tourist Office
Shin Akakura Tourism Office
Ikenohira Onsen Tourist Office
Myoko Suginohara Tourism Office
Myoko Suginohara Ski Resort ticket window
Ikenotaira Onsen ski resort ticket window
Landmark Onsen Cafe
Akakura Kanko resort ski shop
Champion ticket window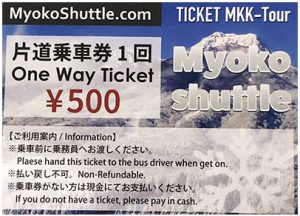 Mt Myoko Shuttle Route Map

Akakura – Suginohara Shuttle
| Myoko bus terminal | Akakura Onsen | Kanko Resort | Hotel Windsor | Ikenotaira Landmark | Ikenotaira Ski Resort | Ikenotaira Tourist Office | Ikenotaira Pension Village | Suginosawa Fire Station | Suginohara Ski Resort |
| --- | --- | --- | --- | --- | --- | --- | --- | --- | --- |
| | 08:00 | 08:03 | 08:05 | 08:10 | 08:13 | 08:17 | 08:18 | 08:21 | 08:24 |
| | 08:30 | 08:33 | 08:35 | 08:40 | 08:43 | 08:47 | 08:48 | 08:51 | 08:54 |
| | 09:00 | 09:03 | 09:05 | 09:10 | 09:13 | 09:17 | 09:18 | 09:21 | 09:24 |
| | 09:30 | 09:33 | 09:35 | 09:40 | 09:43 | 09:47 | 09:48 | 09:51 | 09:54 |
| | 10:00 | 10:03 | 10:05 | 10:10 | 10:13 | 10:17 | 10:18 | 10:21 | 10:24 |
| | 12:00 | 12:03 | 12:05 | 12:10 | 12:13 | 12:17 | 12:18 | 12:21 | 12:24 |
| | 13:00 | 13:03 | 13:05 | 13:10 | 13:13 | 13:17 | 13:18 | 13:21 | 13:24 |
| 14:00 | 14:12 | 14:14 | 14:15 | 14:19 | | 14:21 | 14:22 | 14:25 | 14:28 |
| | 15:00 | 15:03 | 15:05 | 15:10 | 15:13 | 15:17 | 15:18 | 15:21 | 15:24 |
| | 16:00 | 16:03 | 16:05 | 16:10 | 16:13 | 16:17 | 16:18 | 16:21 | 16:24 |
| | 16:30 | 16:33 | 16:35 | 16:40 | 16:43 | 16:47 | 16:48 | 16:51 | 16:54 |
| | 17:00 | 17:03 | 17:05 | 17:10 | 17:13 | 17:17 | 17:18 | 17:21 | 17:24 |
Suginohara – Akakura Shuttle
| Suginohara Ski Resort | Suginosawa Fire Station | Ikenotaira Pension Village | Ikenotaira Tourist Office | Ikenotaira Ski Resort | Ikenotaira Landmark | Hotel Windsor | Kanko Resort | Akakura Onsen |
| --- | --- | --- | --- | --- | --- | --- | --- | --- |
| 08:30 | 08:33 | 08:36 | 08:37 | 08:41 | 08:44 | 08:49 | 08:51 | 08:53 |
| 09:00 | 09:03 | 09:06 | 09:07 | 09:11 | 09:14 | 09:19 | 09:21 | 09:24 |
| 09:30 | 09:33 | 09:36 | 09:37 | 09:41 | 09:44 | 09:49 | 09:51 | 09:53 |
| 10:00 | 10:03 | 10:06 | 10:07 | 10:11 | 10:14 | 10:19 | 10:21 | 10:24 |
| 12:30 | 12:33 | 12:36 | 12:37 | 12:41 | 12:44 | 12:49 | 12:51 | 12:53 |
| 13:30 | 13:33 | 13:36 | 13:37 | 13:41 | 13:44 | 13:49 | 13:51 | 13:53 |
| 14:30 | 14:33 | 14:36 | 14:37 | 14:41 | 14:44 | 14:49 | 14:51 | 14:53 |
| 15:30 | 15:33 | 15:36 | 15:37 | 15:41 | 15:44 | 15:49 | 15:51 | 15:53 |
| 16:00 | 16:03 | 16:06 | 16:07 | 16:11 | 16:14 | 16:19 | 16:21 | 16:23 |
| 16:30 | 16:33 | 16:36 | 16:37 | 16:41 | 16:44 | 16:49 | 16:51 | 16:53 |
| 17:00 | 17:03 | 17:06 | 17:07 | 17:11 | 17:14 | 17:19 | 17:21 | 17:23 |
| 17:30 | 17:33 | 17:36 | 17:37 | 17:41 | 17:44 | 17:49 | 17:51 | 17:53 |